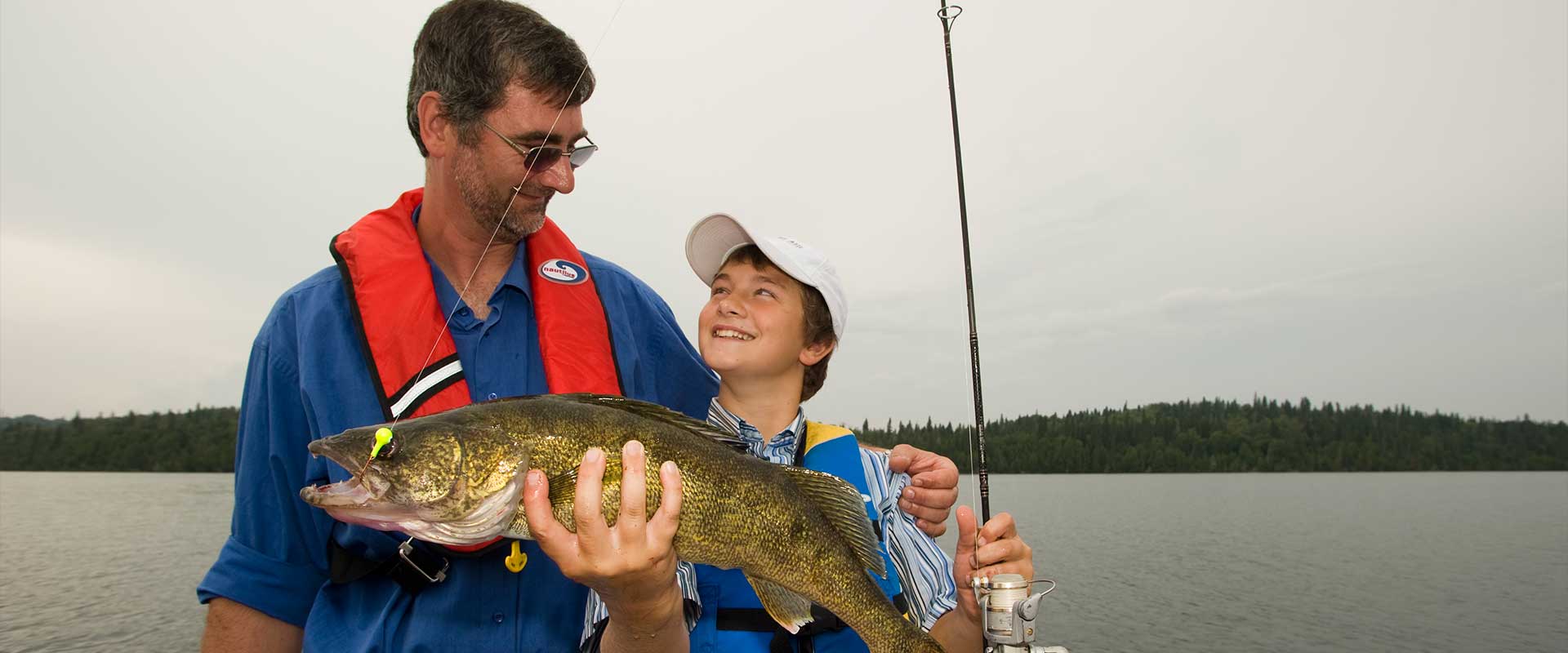 Ignite a passion for fishing! Immerse your family in the breathtaking landscape of Northern Ontario to create some lifelong memories. Learn to fish, surrounded in a family-friendly environment with hands-on instructions from guides with a wealth of expertise. Choose a cottage resort, or remote lodge getaway, or opt for a day of exploration with exceptional guide services, leading you to picturesque lakes and rivers teeming with a variety of fish species.
You'll find plenty of activities to enhance your stay. Dive into refreshing waters for a leisurely swim, gracefully paddle across the serene lake, witness the mesmerizing ballet of birds in flight, or revel in the spectacle of wildlife wandering through their natural habitat. As night falls, let your gaze wander upward, mesmerized by the celestial wonders of the night sky. And what could be more quintessentially Canadian than gathering around a crackling campfire, toasting marshmallows, and sharing laughter with loved ones?
A family fishing trip in Algoma is something that everyone can enjoy!
Fishing Resources:
Order Your Free 2023 Guide
Business Name
Address
City/Town
Phone Number
Agich's Kaby Kabins

PO Box 265

Hornepayne ON, P0M 1Z0

613-855-5410

Air-Dale Fishing & Hunting

PO Box 1194

Wawa ON, P0S 1K0

705-992-3903

Angling Algoma

1333 P Line Road

Hilton Beach ON, P0R 1G0

705-943-5286

Big Basswood Lake Resort

297 Big Basswood Lake Camp Road

Thessalon ON, P0R 1L0

705-842-3802

Birch Lake Resort

99 Basswood Lake Road

Thessalon ON, P0R 1L0

705-842-2219

Birchland Cottages

13775 Hwy 17 East

Thessalon ON, P0R 1L0

705-842-3356

Blue Heron Resort

PO Box 359, 175 Kring Road

Spanish ON, P0P 2A0

705-844-2596

Brennan Harbour Resort

308 Brennan Harbour Road, PO Box 389

Spanish ON, P0P 2A0

705-844-1136

Bruce Bay Cottages & Lighthouse

PO Box 58, French & McKay Island

Bruce Mines ON, P0R 1C0

705-785-3473

Buck Lake Wilderness Lodges and Outposts

Box 577

Hornepayne ON, P0M 1Z0

705-534-1991

Camp Missanabie / Northern Walleye Lodge

PO Box 3 #10

Missanabie ON, P0M 2H0

Catfish Lakefront Cabins

1467 Highway 17 North, PO Box 173

Wawa ON, P0S 1K0

705-856-0399

Chiblow Lake Lodge

95 Chiblow Lake Road

Iron Bridge ON, P0R 1B0

705-843-0402

Como Lake Resort

PO Box 506

Chapleau ON, P0M 1K0

705-864-1476

Errington's Wilderness Island

22057-44 Great Northern Road SSM

Chapleau ON, P6B 6H4

705-884-2215

Esnagami Wilderness Lodge

PO Box 270

Nakina ON, P0T 2H0

807-329-5209

Flame Lake Lodge

Box 629

Chapleau ON, P0M 1K0

705-864-2588

Garson's Fly-In Outposts

748A Fourth Line West

Sault Ste. Marie ON, P6A 5K8

705-253-4938

Green Wilderness Lodge

Box 308

Gogama ON, P0H 2C0

705-494-6618

Henderson's Outposts

100 Queen Street, South

Chapleau ON, P0M 1K0

705-864-0893

Lauzon East

1055 Bayview Lane

Algoma Mills ON, P0R 1A0

519-949-1052

Limberlost Lodge

8 Limberlost Lane

Thessalon ON, P0R 1L0

705-828-0461

Loch Island Lodge
PO Box 577
Sault Ste. Marie, Michigan 49783

Dubreuilville ON, P0S 1B0

705-234-2592

Lodge Eighty Eight

PO Box 220

White River ON, P0M 3G0

705-812-1624

Mar Mac Lodge
PO Box 98
Desbarats, Ontario P6A 5N2

White River ON, P6A 5N2

705-884-2505

MonkWorks Fishing

81 Anna Street

Sault Ste. Marie ON, P6B 3S7

647-472-1645

Northern Skies Resort

8404 Highway 129

Thessalon ON, P0R 1L0

705-206-4066

Pine Portage Lodge

PO Box 1129A, 195 Mission Road

Wawa ON, P0S 1K0

705-856-2223

Ranger Lake Resort

95 Hwy 556

Searchmont ON, P0S 1J0

705-781-2348

Red Pine Lodge

PO Box 94

Foleyet ON, P0M 1T0

705-899-2875

Snowshoe Camp Resort

Wakomata Lake Road, RR 3

Thessalon ON, P0R 1L0

705-206-0447

Spanish River Resort and Campground / Mitchells' Camp

69 Colonization Road

Spanish ON, P0P 2A0

705-844-2202

Ten Mile Lake Lodge

PO Box 626

Elliot Lake ON, P5A 2R5

705-827-2322

Timberwolf Lodge

PO Box 746

Hornepayne ON, P0M 1Z0

807-868-2555

Tyler Dunn Guiding

12 Laird Street

Sault Ste. Marie ON, P6B 2R9

705-206-0984

Waterfalls Lodge

PO Box 8

Spanish ON, P0P 2A0

705-844-2169

Whispering Winds

Seymour Lake Road

Mississagi Valley ON,

705-785-3782

White River Air

PO Box 220

White River ON, P0M 3G0

807-822-2222

Windy Point Lodge

PO Box 1334

Wawa ON, P0S 1K0

705-946-4000

Ontario North Fishing Adventures

446 Northern Avenue East

Sault Ste. Marie ON, P6B 4J1

705-949-1293

Redwood Sportfishing Charters

313 Wilson Street

Sault Ste. Marie ON, P6B 2K7

705-941-8272